Cold Chain Temperature Monitoring with IoT Technology
Transporting temperature-sensitive products, from food to vaccines poses a risk. The improper handling during the cold chain transport spoils food and renders medicines ineffective. It leads to concerns about the safety of consuming the products. In today's logistics world, real-time tracking of the cold chain supply chain is in demand along with the international rollout of cold chain temperature monitoring with the IoT Technology
The "internet of things" (IoT) is a system of interrelated computing devices (e.g. data loggers). Objects, animals, or people are provided with unique identifiers (UIDs). To transfer data over a network without requiring human-to-human or human-to-computer interaction.
Two Categories of IoT:
Is the wireless application based on proprietary or a standard protocol? A proprietary protocol has security advantages but means that software is needed.
Is the antenna network used a private or public antenna network? Public antenna networks have much wider coverage compared to private networks.
Logistic providers responsible for temperature-sensitive goods used to read temperature gauges manually. Record the results on paper fastened to a clipboard. Sometimes these readings are then encoded into a spreadsheet or online database.
While this system is better than nothing, it has serious flaws that can affect human health. How reliable and accurate are the recorded temperatures?
Suppose the temperature goes up and down during shipment. Only at the start and final readings were noted. There can be spoilage during the journey.
Back then, there was no way to check the temperature during shipment. A slew of new temperature sensor devices reshaping the supply chain industry. Especially in cold chain goods that are more prone to fluctuations in temperature.
The cold chain is where crucial temperature management is paramount. It encompasses all the transit points from the manufacturing and final delivery.
It includes everyday products like produce, frozen food, and dairy. But also pharmaceuticals are kept within a prescribed temperature. Or they lose their potency and become useless.
Temperature monitoring and logging are essential for health and safety. Government safety regulations need temperature logging to prevent degradation or spoilage of products. These regulations ensure that a product that looks safe is in fact, safe.
If the shipment spoils during the transit. The temperature logs can point at what time the spoilage occurred.
Proper Management of Cold Chain
The processes use transport temperature-sensitive products from the manufacturer to the final recipients. These are a huge logistical effort.
Drivers and dispatchers plan pickups and deliveries;
Handlers alerted to potential problems before shipments compromised;
Operations managers make detailed auditing information to ensure compliance with regulations. Guarantee shipments can be successful.
All this needs coordination and expertise. It carries a huge cost: according to industry forecasts by Pharmaceutical Commerce, cold chain logistics represents a $15 billion market in the biopharma sector alone.
Global Supply Chain Visibility and Insights
Big pharmaceutical companies have a mix of products, shipping modes, and packaging techniques. All their monitoring from PDF to real-time is not an option for cost and complexity reasons. They're looking for a temperature monitoring database that offers all these options. Real-time trackers, PDF data loggers, low-cost box-level indicators.
Requirements for a real-time cold monitoring system:
Real-time capabilities with global visibility and control
Compliance in temperature monitoring
Combine real-time device with a classical PDF data logger. For less critical products/shipments and box-level indicators
Intuitive and straightforward to use.
Benefits of Real-Time Temperature & Humidity Data Loggers in Cold Chain
Logistics Service Providers (LSP) react there is a temperature excursion. Where exactly is the location of the medical goods? This results in more stable data and less product loss. Compared to old school (offline) data loggers.
Real-time temperature & humidity monitoring sensors read the temperature/humidity. It also optimizes asset tracking. Logistics Service Providers bring a better service level. They are resulting in less budget waste and product loss. Furthermore, they can use the information to manage fleets better.
The cold chain processes automate (automated start, stop, and upload). The data is available online. No need to retrieve data loggers, install software, or train staff in uploading files.
Clinical Supply Chain
The sophistication, price, and risk of cold chain logistics. Makes it ideal for an IoT cloud-based solution. A designed IoT system makes tracking, monitoring, alerting, and auditing easier and simple.
An IoT Cold Chain Management Solution Using GCP
A client manages a fleet of reefers that carry critical vaccine shipments as an example. They need a system to track their cold chain operations. To head off shipping delays. Ensuring that shipments are kept at the correct temperature throughout the process. Getting notifications about delivery states and potential errors.
Using Cloud IoT Core with the Google Cloud Platform. It offers a cache of tools that make it easy to gather, process, and store data from vehicle sensors. It's possible to build a complete solution in a single GCP project—from data gathering to display on the UI.
The client outfitted their reefers with a GPS module and temperature and humidity sensors. Which communicate through cellular communication. Each connected device is recognized in a Cloud IoT Core registry.
Real-Time Location Tracking and Temperature Monitoring
A cold chain logistics provider know two things when transporting the products:
Where is my shipment and how cold is it?
The IoT solution displays the real-time location of reefers. It shows temperature and humidity.
Alerting
Notifications a triggered in an IoT platform. Not only will the UI be able to show the warning messages immediately. Users will also be able to receive and take action against the alerts on their devices. When a reefer's temperature starts to go outside the optimal temperature. The driver makes an emergency stop to investigate the cause of the excursion. Before the shipment spoils. Or there is a delay in the shipment. Dispatchers redirect the truck to an alternative route. Notify the recipient about the delay so they expect when the shipment arrives.
Critical Challenges in Cold Chain Monitoring
The flaw with manual temperature logging is that it is prone to errors. Logistics providers record every temperature gauge in person. Write the readings on the clipboard, which is a tedious task.
As a result, hurried misreading of the gauge. Imaginary readings are jotted down to fill in for missed readings. This will cause inaccurate measurements and lead to undetected spoilage. This practice, also known as "pencil whipping,".
This can compromise the integrity of the products. Temperature readings are recorded as soon as the products arrive. This is no way of knowing if the product is kept at the prescribed temperature for the entire journey.
Four key players are responsible for the product. As it goes through the supply chain to its destination, such as the pharmacy. They include the loader, carrier, shipper, and receiver. These goods and the responsibility change every time it reaches a stopover point. And each of these players may be using his own set of a recordkeeping systems.
These problems in cold chain temperature management are showing with new health outbreaks.
Organizations across the cold chain, from shipping services to pharmaceutical organizations, are worried that they are selling compromised medical products to their patients.
Brand integrity is crucial to these companies. Public trust important influence on public relations, profit and loss, and business viability.
Before the IoT, there was no solution to address this. But today, with IoT temperature sensors and automation. It ensures consistency, maintains quality, and ensures goods. It is better monitored during packing, shipping, delivery, storage, and service.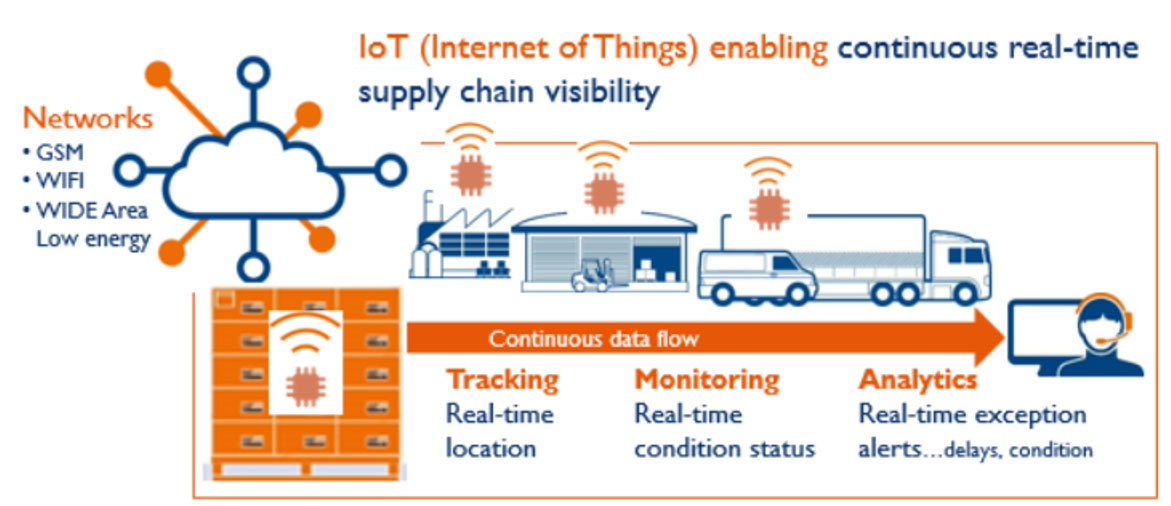 How IoT Technology Revising the Cold Chain Temperature Monitoring
An Internet-enabled temperature device takes temperature measurements 24 hours, seven days a week. ​Compared with manual logging, automated monitoring enables non-stop monitoring and quick alerts. It supplies a predictive maintenance program. It ensures the equipment is serviced before an entire shipment has spoiled.
An IoT sensor takes readings of a shipment and logged automatically. Readings can be accessed in near real-time, usually in 15-minute intervals, on any Internet-connected smart device from anywhere in the world.
Usually, when a piece of technology is being replaced, the newer alternative has to be exponentially better than the existing system. Cold chain temperature monitoring with IoT technology is not just better than a driver with a pencil. It is way much more advanced.
Here Are 5 Key Advantages:
1. Temperature Logging is Easier
It makes the job of logging easier for all cold chain personnel. They do not have to check temperature gauges and write the temperature values manually. Monitoring can be done at the company office with a computer or smart device wirelessly connected to the monitoring system. The logistics staff responsible for the goods can be alerted only if something is wrong, such as temperature excursions.
2. Temperature Sensors Are More Accurate
An IoT-enabled cold chain is safer. With its 100% accuracy, it can identify shipments that have exceeded their prescribed temperature. Spoilage of medical goods can be a huge financial loss. With the IoT system, it is a lot cheaper and less impactful than a mass recall and the cost in human health and safety and lost revenues.
3. IoT Temperature Monitoring Is Inexpensive
Cold chain temperature monitoring with IoT technology doesn't cost much to implement. Personnel can use their time more efficiently than doing the tedious task of manually checking and recording temperatures, and it practically pays for itself. The devices' batteries have been designed to last five years. After the first purchase and other minor ongoing monitoring costs, there are no maintenance costs. Thus, making it easy to budget.
4. Temperature Sensors Are Easy to Implement
Many logistics companies are always worried about when they will upgrade their fleet, and pharmacies have concerns about the costs of upgrading their monitoring systems. It used to be sensors that required a full day or more to install. If a logistics company has a fleet of 50 trucks, it will take 50 lost days of productivity to install the sensors, a significant loss for any logistics or service organization.
But with the cold chain temperature monitoring with IoT technology, installation can take as little as five minutes. There is no time-consuming drilling or threading of wires. Just look for an accessible place for the sensor and install it, and that's it. With the sensor's battery to last five years, it automatically sends reports and can be accessed anytime from a smart device.
5. Real-Time Location Tracking
For the complete cold chain monitoring package, there is location tracking. The IoT system can track location and temperature and send that data back to a simple dashboard. No longer the shipment is marked as "in transit." With wireless tracking, the company can precisely predict where the products are and accurately forecast when they arrive.
Conclusions
The world cold chain logistics companies, restaurants, and retail stores are moving forward to use IoT sensors to track and monitor their goods. Personnel will no longer write values in the clipboard and record highly accurate readings taken at regular intervals that ensure the product was kept at the right temperature for the journey's entirety. If a problem arises, it's much easier to correct it and determine if the shipment is spoiled.
Cloud-based IoT solutions can provide real-time situations into a cold chain. The IoT platform utilizes all of the tools needed for a full-scale solution in one place. It gives real measurements through both a real-time and an easily accessible database, enabling secure communication. As a result, problems are detected earlier, and anyone who has access can know a shipment's status right now.
As more pharma companies discover the benefits of an IoT-enabled cold chain, there will be an industry-wide shift towards improving technology for accuracy improvements, human health, and safety.
Reference Links:
https://www.digi.com/blog/post/iot-temperature-sensors-revolutionize-cold-chain
https://www.iotforall.com/building-a-cold-chain-management-iot-solution
https://www.elpro.cloud/en/cold-chain-monitoring/real-time-temperature-monitoring#IoT-for-cold-chain